The Provider Role: Mitigating Risk and Promoting Resilience in Youth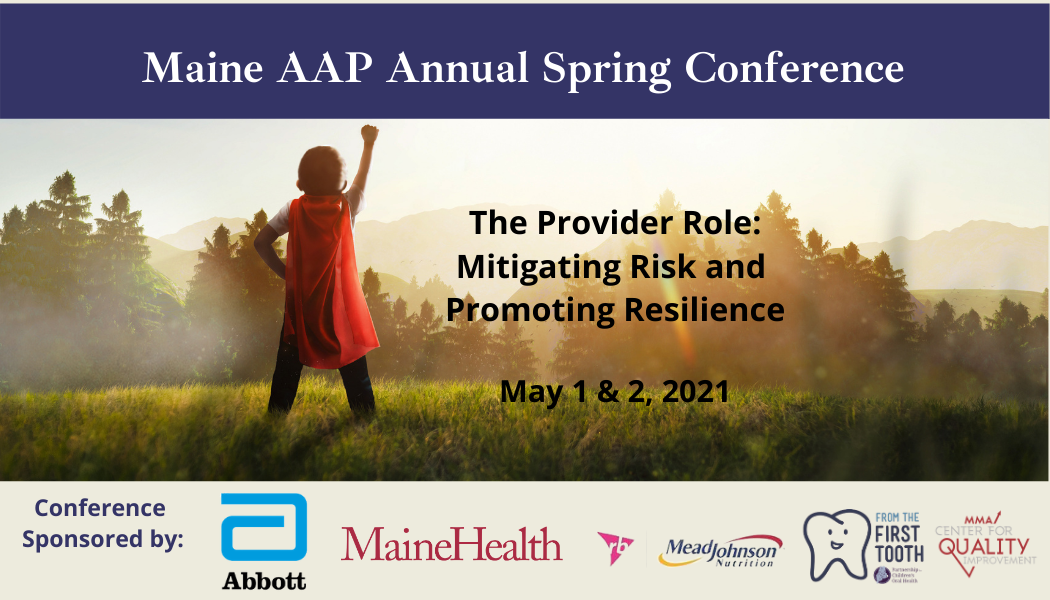 Agenda
Saturday, May 1
---
8:00am
Welcome and Morning Plenary Talk
Welcome and Speaker Introduction
Deborah Q Hagler, MD

President, Maine AAP

Deborah Hagler, MD, FAAP attended Duke University and Cornell Medical College and did her pediatric training at the Children's Hospital of Philadelphia. Throughout her educational journey she has been involved in collaborative efforts to educate her community. As a resident in Philadelphia she worked with at risk youth in a local homeless shelter and helped organize a series of talks for residents to educate herself and colleagues about social determinants of health. For these efforts receiving the the Nancy Barnhart Community Service Award and the Senior Resident Humanitarian award.

Dr. Hagler is an active member of the community serving as the school physician for many of years and working with many local organizations on issues pertinent to children's health and wellbeing. She has been the recipient of several Community Builder Awards from the local United Way.

Dr. Hagler is currently a pediatrician and Director of the Community Health and Wellness Center at Mid Coast Hospital and is the President of the Maine Chapter of the American Academy of Pediatrics. She is completing a Masters of Public Health at the Bloomberg School of Public Health at Johns Hopkins University focusing on child and adolescent mental health and using many of her new skills to lead a multi stakeholder coalition to improve children's mental health and spearheading the creation of a substance abuse treatment clinic for adolescents in the Mid Coast Region.
All Roads Lead to Rome, But You Can't Get There From Here: Confident Diagnosis and Management of Chronic Abdominal Pain
Noah J. F. Hoffman, MD

Maine Medical Partners, Pediatric Specialty Care

Dr. Hoffman is a Pediatric Gastroenterologist at Maine Medical Center. He did residency and fellowship training at The Children's Hospital of Philadelphia and received a Master's Degree in Health Policy Research from The University of Pennsylvania during his fellowship. Clinically, my biggest interests are liver disease, IBD, endoscopic procedures, and the intersection of Gastroenterology and Mental Health. He maintains an interest in quality, innovation, and healthcare delivery science and coordinates MaineHealth Children's Health Service Line's Project ECHO. Outside of work, he spends as much time as possible outdoors with his wife (AAP member Dr. Sarah Hoffman) and 2 wild boys Max and James.

Handouts:
9:15am
Morning Keynote
Exploring the Intersection of Obesity and Disparities in Pediatrics
Fatima Cody Stanford, MD, MPH, MPA, FAAP, FACP, FAHA, FTOS

Massachusetts General Hospital / Harvard Medical School

Dr. Stanford practices and teaches at Massachusetts General Hospital (MGH)/ Harvard Medical School (HMS) as one of the first fellowship-trained obesity medicine physicians in the world. Dr. Stanford received her BS and MPH from Emory University as a MLK Scholar, her MD from the Medical College of Georgia School of Medicine as a Stoney Scholar, and her MPA from the Harvard Kennedy School of Government as a Zuckerman Fellow in the Harvard Center for Public Leadership. She completed her Obesity Medicine & Nutrition Fellowship at MGH/HMS after completing her internal medicine and pediatrics residency at the University of South Carolina. She has served as a health communications fellow at the Centers for Disease Control and Prevention and as a behavioral sciences intern at the American Cancer Society. Upon completion of her MPH, she received the Gold Congressional Award, the highest honor that Congress bestows upon America's youth. Dr. Stanford has completed a medicine and media internship at the Discovery Channel. An American Medical Association (AMA) Foundation Leadership Award recipient in 2005, an AMA Paul Ambrose Award for national leadership among resident physicians in 2009, she was selected for the AMA Inspirational Physician Award in 2015. The American College of Physicians (ACP) selected her as the 2013 recipient of the Joseph E. Johnson Leadership Award and the Massachusetts ACP selected her for the Young Leadership Award in 2015. She is the 2017 recipient of the HMS Amos Diversity Award and Massachusetts Medical Society (MMS) Award for Women's Health. In 2019, she was selected as the Suffolk District Community Clinician of the Year and for the Reducing Health Disparities Award for MMS. She was selected for The Obesity Society Clinician of the Year in 2020. In 2021, she will be awarded the AMA Dr. Edmond and Rima Cabbabe Dedication to the Profession Award which recognizes a physician who demonstrates active and productive improvement to the profession of medicine through community service, advocacy, leadership, teaching, or philanthropy.
10:30am
Morning Plenary
The Adolescent Vaping Epidemic
Alexandra Kass, MD

Fellow, Division of Pulmonary Medicine, Boston Children's Hospital

Alexandra Kass is a third year Pulmonary Fellow at Boston Children's Hospital. She attended medical school at Columbia University, where she stayed for her General Pediatrics Residency. She has an interest in mental health issues in adolescents with chronic health conditions, and is doing research about disordered eating in adolescent patients with Cystic Fibrosis. She is part of group working to better understand the vaping epidemic in adolescents as well as helping to improve the diagnosis and treatment of patients with vaping-related lung disease. She enjoys traveling, cooking, and hiking with her husband and new baby daughter.
Handouts:
11:30am
Lunch Break
12:00 N
Chapter Annual Meeting and AAP Certificate of Excellence Awards
1:00pm
Afternoon Keynote
How to help youth mental health in the primary care office
Bernadette Mazurek Melnyk, PNP, PhD

The Ohio State University and Ohio State College of Medicine

Dr. Melnyk is recognized nationally and globally for both her clinical knowledge and innovative approaches to a wide range of health care challenges. She serves as Vice President for Health Promotion, University Chief Wellness Officer, and Professor and Dean of the College of Nursing at The Ohio State University. She also is a professor of pediatrics and psychiatry at Ohio State's College of Medicine.

Dr. Melnyk's groundbreaking work spans evidence-based practice, intervention research, child and adolescent mental health, and health and wellness. She has consulted with hundreds of healthcare systems and colleges worldwide on improving quality of care and patient outcomes by implementing and sustaining evidence-based practice.

In 2013, Dr. Melnyk became one of the few women and nurses elected to the Institute of Medicine – a division of the National Academies of Sciences, Engineering, and Medicine whose members counsel government and private sector leaders to help them make informed health decisions. Election to the IOM is among the highest honors in the fields of health and medicine.

Appointed by U.S. DHHS officials, she served a four-year term on the 16-member United States Preventive Services Task Force. That independent group of national experts in prevention and evidence-based medicine works to improve the health of all Americans by making evidence-based recommendations about clinical preventive services such as screenings, counseling services, or preventive medications.

She founded the National Interprofessional Education and Practice Collaborative to advance the U.S. DHHS's Million Hearts® initiative and its goal of preventing one million heart attacks and strokes by 2017. Dr. Melnyk also founded the National Consortium for Building Healthy Academic Communities, a collaborative organization to improve population health in the nation's institutions of higher learning.

Since arriving at Ohio State in 2011, she has overseen significant steps toward establishing the nursing program there among the nation's elite. In 2015, Ohio State's master's program in nursing was named among the nation's top 25 by U.S. News and World Report– putting it among the top five percent of nursing programs nationwide – and the College of Nursing was designated by USN&WR as one America's top 10 for both master's and undergraduate online education.

Also in 2015, the Ohio State College of Nursing received a $1 million gift from FloAnn and John Easton to establish an endowed professorship for child and adolescent health – an important step toward improving health outcomes for a key at-risk population.

Dr. Melnyk has secured more than $19 million in sponsored funding from federal agencies as principal investigator and her findings have appeared in more than 280 publications. In 2002, she received the Jessie Scott Award from the American Nurses Association, recognizing her work to improve health care quality through the integration of research, education and practice. And Dr. Melnyk has been named one of the most 30 influential nursing deans by The Mometrix Blog, which based its selections on data including awards, Top 10 rankings, NIH funding, and NCLEX passing percentage.

Dr. Melnyk is co-editor of four books, including Evidence-based Practice in Nursing & Healthcare: A Guide to Best Practice, Implementing EBP: Real World Success Stories,A Practical Guide to Child and Adolescent Mental Health Screening, Early Intervention, and Health Promotion(2ndEd), and Intervention Research: Designing, Conducting, Analyzing and Funding, an American Journal of Nursing Book of the Year Award winner.

Dr. Melnyk is a member of the National Quality Forum's (NQF) Behavioral Health Standing Committee and the National Institutes of Health's National Advisory Council for Nursing Research. She serves as editor of the journal, Worldviews on Evidence-based Nursing, and is a board member of U.S. Healthiest, the National Guideline Clearinghouse and the National Quality Measures Clearinghouse (NGC/NQMC).

Dr. Melnyk earned her BS in Nursing from West Virginia University, her MS with a specialization in nursing care of children and pediatric nurse practitioner from the University of Pittsburgh, and her PhD in clinical research from the University of Rochester – where she also completed her post-master's certificate as a psychiatric mental health nurse practitioner. She is an elected fellow of the National Academy of Medicine, the American Academy of Nursing, the National Academies of Practice and the American Association of Nurse Practitioners.
2:15pm
Afternoon Plenary Panel
Coordinating a safety net for youth with special health challenges post COVID
Sunday, May 2
---
8:00am
Resilience Rx: a prescription for resilience you can offer your families, one messy moment at a time!
Gretchen Pianka MD, MPH, FAAP

Central Maine Pediatrics

Dr. Gretchen Pianka is pioneering how primary care providers can use their unique relationship with families to foster resilience in their patients and the families they care for. In 2020, she launched Resilience University within her Lewiston, Maine, practice. This initiative is garnering national interest and will soon be featured on the American Academy of Pediatrics STAR Resource Center. She recently submitted a Community Access to Child Health Grant application partnering with the Maine Resilience Building Network (MRBN), Bates College and AccelerateYouth to help foster resilience in Maine teens. As a member of Tuft's HOPE (Health Outcomes from Positive Experiences) Innovation Network, she's bringing to clinical practice the cutting-edge research showing the powerful protective effect Positive Childhood Experiences can have in offsetting the effect of Adverse Childhood Experiences. Her hope is to offer Resilience University broadly as the mental health equivalent of putting fluoride in the water for dental health.

Dr. Pianka received her undergraduate degree from Amherst College and subsequently spent two years as a John Woodruff Simpson Fellow, working with international indigenous communities to better understand cultural barriers to health. She then attended the University of Vermont School of Medicine where she received the Frank Susan Medical Alumni Award. As a pediatric resident at the University of Virginia she was recognized by the American Academy of Pediatrics for her work with refugee children with the Ann Dyson Child Advocacy Award. Dr. Pianka earned her Masters in Public Health from the University of New England. She worked for years as a physician champion when MaineHealth initially launched its From the First Tooth Program and is currently participating in the national American Academy of Pediatrics Social Determinants of Health Collaborative.

Dr. Pianka is a Fellow of the American Academy of Pediatrics and the managing physician at Central Maine Pediatrics where she enjoys her busy practice. Here she precepts family medicine residents and teaches University of New England medical students. She has served on the board of KidsFirst and Kids Free to Grow, two organizations devoted to protecting children's wellbeing in Maine. She lives in coastal Maine with her husband and three children.
This workshop/presentation will show you how to integrate resilience building strategies into your visits for common complaints such as mood concerns, aggression and behavior problems. This supports positive childhood experiences which offset the long term impact of adversity. The strategies are simple, evidence based and are something every family can access. By looking at what gets in the way when families are trying to talk about feelings, we can begin to help them shift their family culture to one. https://resilience-university....
Handouts: