Maine AAP Spring 2022 Conference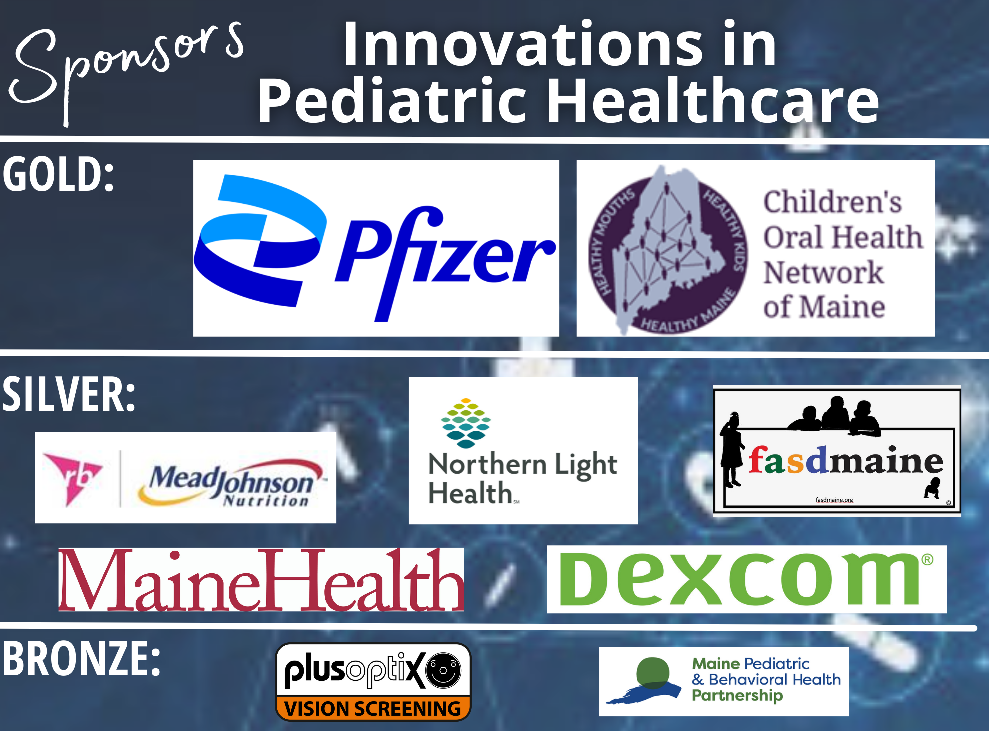 CME:
This activity has been planned and implemented in accordance with the accreditation requirements and policies of the Accreditation Council for Continuing Medical Education (ACCME) through the joint providership of the Maine Medical Education Trust and the Maine Chapter of the American Academy of Pediatrics. The Maine Medical Education Trust is accredited by the Maine Medical Association Committee on Continuing Medical Education and Accreditation to provide continuing medical education for physicians. This event has been approved for 7.25 AMA PRA Category 1 credits.
Venue: Samoset Resort

We have a room block at the Samoset Resort on Friday, 4/29 and Saturday, 4/30. Rooms are blocked under the Maine Chapter of the American Academy of Pediatrics. To book, you can call 800-341-1650 and ask for our block rates, or you can use this link to book a room reservation: https://reservations.samosetre... Garden View Room $149. Partial Ocean View $169. Ocean Front Room $199.

*Of note: Each room has a mini-refrigerator and coffee maker. Family members can add on to our meal count but will need to be registered and paid for through the registration page. The resort has restaurants that will be open for service.
COVID Vaccine Information - All age eligible attendees are required to be fully vaccinated against COVID 19 and have access to their vaccine card. Masks will be strongly encouraged in public areas. We will follow venue recommendations along with the State of Maine's protocols.

Register
Agenda
Friday, April 29, 2022
---
5:30pm
Career/Mentorship Reception: Maine AAP Members and Residents/Students
If you are a member and interested in being a mentor, formally or informally, to early career physicians, resident physicians or medical students, please join us for this reception. Be sure to select this option on the registration platform. There is no charge to attend.
Saturday, April 30, 2022
---
7:30am
Breakfast with the Exhibitors
All registered guests are welcome to join us for breakfast in the exhibit hall. There is no charge for this event.
8:00am
Welcome and Speaker Introduction
Deborah Hagler, MD, MPH, FAAP

President, Maine AAP and Pediatrician, MidCoast Hospital

Deborah Q. Hagler, MD, MPH, FAAP serves as the current president of the Maine Chapter of the American Academy of Pediatrics. She has practiced pediatrics for 24 years in Brunswick, Maine where she served as the Brunswick school physician for many of those years. For over a decade she has been honing her clinical skills to better care for youth with mental illness and substance use disorders and has stepped into the community to work with partners to identify resources for patients and families. She has been working with an engaged coalition of committed professionals in her local community to create systemic improvements in the prevention and treatment of youth mental illness and substance use disorders. This journey led her back into the classroom where she recently completed a Master of Public Health at Johns Hopkins University focusing on youth mental health and substance use. She lives with her husband in Harpswell and has two young adult sons.

Laura Blaisdell, MD, MPH, FAAP

Dr. Blaisdell is a board-certified pediatrician, child health researcher and advocate. She received a B.A. from Carleton College in Northfield, Minnesota, a medical doctorate and public health degree (MD/MPH) at the University of Minnesota and completed a residency in pediatrics at Maine Medical Center. She currently serves as the Vice President of the Maine AAP and is a founding member of Maine Families for Vaccines.

Dr. Blaisdell has published research on vaccine hesitation and decision-making among parents as well as management of infectious disease in camp settings. She was a site director for the National Children's Study, where she also led studies of new social media strategies for research recruitment. In addition to her clinical and research activities, Dr. Blaisdell served as the Chair of the Institutional Review Board (IRB) at MMC, as Chief of Pediatrics at InterMed, as well as serving as a Trustee to Mercy Hospital in Portland.

Dr. Blaisdell mentors students and residents and teaches evidence-based medicine in her role of Assistant Professor at Tufts University School of Medicine and is an attending physician at Maine Medical Center's Pediatric Clinic.

Dr. Blaisdell is also has expertise in camp medicine, serving as Medical Director and Camp Co-Owner at Camp Winnebago in Maine. She resides in South Portland and Fayette, Maine where she lives with her two sons and husband.
8:05am
Cystic Fibrosis Newborn Screening for the Primary Care Provider
This is a multidisciplinary talk from members of the Maine CF Newborn Screening Consortium to provide primary care providers with the current newborn screening practices in our state.
10:00am
Monoclonal Antibodies and Infectious Diseases
Handouts:
10:30am
Twist Around: A Tale of Intertwined Lives in the MDA Clinic in the Golden Age of Genetic Therapies
Tom Reynolds, DO

Maine Medical Center

Tom Reynolds has been in practice in pediatric neurology in Maine since 2011. He is the division director for pediatric neurology at the Barbara Bush Children's Hospital and is also the medical director of both the pediatric MDA clinic and the spina bifida clinic. In addition to practicing general pediatric neurology, he also plays a large role in medical education as the associate program director of the general pediatrics residency.
Handouts:
11:30am
Scoliosis; Diagnosis, Treatment, and When to Refer
William Paul Bassett, MD

Northern Light Health

William "Paul" Bassett M.D is the new Pediatric Orthopaedic Surgeon who recently joined the Northern Light Health system as of Fall 2021. As the newest physician to this group, he is proud to offer orthopedic surgical options to the pediatric population at Eastern Maine Medical Center. He attended medical school at Drexel University in Philadelphia, Pennsylvania and completed an orthopedic residency at Rutgers in New Jersey. He also completed an advanced subspecialty fellowship in pediatric orthopaedics and scoliosis at the Texas Scottish Rite Hospital for Children in Dallas, Texas. His wife and son are also extremely excited about the move to Maine, as they are all thrilled to experience four seasons once again while taking part in their love of camping, hiking, and exploring the great outdoors.

Dr. Basseett has multiple clinical interests within the realm of pediatric orthopedics including scoliosis, fracture care, hip dysplasia, slipped capital femoral epiphysis, lower extremity deformity, leg length discrepancy, club feet, benign bone tumors, slipped capital femoral epiphysis, and foot reconstruction. He is a member associate of the Pediatric Orthopaedic Society of North America (POSNA), as well as the American Academy of Orthopaedic Surgeons (AAOS), American Orthopaedic Association (AOA), and the Scoliosis Research Society (SRS)."
Handouts:
12:30pm
Lunch
A buffet lunch will be served.
1:00pm
Awards Presentation
Deborah Hagler, MD, MPH and Laura Blaisdell, MD, MPH
The 2021 Legislator and Advocate of the Year awards will be given out.
1:15pm
Harnessing Innovation: On the Path to a Future Free of Dental Disease
A panel of statewide community leaders and providers will share innovations in oral health care procedures and delivery.
2:30pm
Hands-On Innovations
Providers will give a short talk on four health conditions and connect them to treatment tools and devices. The exhibit hall will be open following for all exhibits - and the providers who spoke will join the exhibits aligned with their respective talk.
5:30pm
Reception - all attendees are welcome
Poster Session, Sponsor Thank-You Opportunity, Exhibits Open
Sunday, May 1, 2022
---
7:30am
Maine AAP Annual Members Meeting
Attend to hear about the chapter's accomplishments over the past year, hear from Board leadership on advocacy, financial matters, committee reports, National updates, and more!
8:30am
Gettin' By: A Game of Scarcity
Linda Riddell, MHPM

Linda Riddell is an epidemiologist, specializing in poverty and social-economic status issues. She has a master's degree in health policy and management and keeps abreast of developments with courses at Massachusetts Institute of Technology, Johns Hopkins University, and the University of Michigan. She has a bachelor's in English.
Talk and interactive game to help professionals understand the impact of poverty on the brain and in family life.
Handouts:
10:30am
Stop the Bleed
Minutes count! Someone who is severely bleeding can bleed to death in as little as 5 minutes. That's why bleeding control—keeping the blood inside the body—is the purpose of STOP THE BLEED® training.
Sign up to be part of this training program on the registration platform.